MEET SIMON GAGNE
Flyerstown/Phantom Village (By Joy) -- January 1999
It's been a long time since Philadelphia had a bona fide offensive prospect, so for prospect watchers, Simon Gagne has been quite a relief. At the conclusion of his first QMJHL season since he was drafted by the Flyers in the first round of the 1998 Entry Draft, Gagne is looking more and more like a quite a steal.
Gagne is a 19 year old currently playing for the Quebec Remparts of the QMJHL. He's a little small by NHL standards (especially Philly standards) at 6'0 and 177lbs, although he's expected to fill out a little more as time goes on. He shoots from the left and is nicknamed "Kid". He was drafted into the Q by Beauport, 10th overall in the first round in 1996. He started playing for Quebec in the 1997-98 season. Here are his amateur stats:
Year
Team
League
GP
G
A
P
PIM
98-99
Quebec
QMJHL
61
50
70
120
42
97-98
Quebec
QMJHL
53
30
39
69
26
96-97
Beauport
QMJHL
51
9
22
31
39
95-96
Ste. Foy
M-AAA
27
13
9
22
18
Simon's father, Philip Gagne, attended the Philadelphia Flyers first ever training camp in Quebec, which is where he met former Flyers Simon Nolet. Simon Nolet, you may know, is a scout for the Flyers organization and it was on his advice that they picked young Gagne last year at the draft. Although Nolet had ample opportunity to see Simon develop into a premier young player as a friend of his father, the decision to pick Gagne also made good hockey sense. Drafted 22nd overall, the Flyers were surprised to see that he was so available when their pick arrived; they had rated him much higher. So the choice was made.
Gagne is a playmaker who skates well with the puck and likes to put the puck in the net as often as he passes. The QMJHL is a high-scoring league, so Gagne's gaudy numbers must be taken with a grain of salt, but his fine play this year has earned him support around the league to be named MVP. He was the only skater from the Q to be chosen for the National Jr. team which played in the 1999 World Jr. Championships, narrowly defeating teammate Eric Chouinard. He plays with a defensive conscience and can be used on both the powerplay and the penalty kill.
Barry Trapp, director of scouting for Canadian Hockey, said: "First of all, he's a great skater. He may be the best skater in the Quebec major junior league. He's a good two-way player and a good penalty killer and has good puck handling skills. He just brings a whole lot of things to the table."
At the World Jrs, he started out slowly offensively, since he was used in mostly a checking role. However, he went on an offensive rampage later, ending up with 7 goals, 1 assist, and 8 points in 7 games. He was the leading goal-scorer in the tournament, the #7 point-scorer (#2 on Team Canada), and second on Team Canada on faceoffs taken and faceoff winning percentage (72W, 57L,56%). Against Kazakhstan (admittedly not a powerhouse team), he tied a WJC record held by some guy named Mario Lemieux with 4 goals and finished the day a ridiculous +7.
Gagne will wow you with individual performances like his feat against Kazakhstan, but he is also remarkably consistent. He had two 20+ game point scoring streaks this season (21 games and 24 games) and is a big reason why the Remparts clinched the regular season title in the Q. The Remparts's rather melodramatic game reports call him their "etoile filante" -- their shooting star. He notched a hat trick in the final game of the regular season to reach the coveted 50 goal plateau.
Before he was drafted last summer, his scouting report read as follows: "An effortless, shifty skater with good acceleration and a quick change of pace ... a smart player who is very clever with the puck ... he is an unselfish player who effectively creates opportunities for his teammates ... he is creative with the puck and possesses natural scoring instincts ... he is always around the puck and is excellent in one-on-one situations ... is used in all game situations ... he is a good checker, although he is not considered a physical player ... he positions himself for transition of play ... a good competitor with strong desire and an excellent attitude towards the game.
In other words, Gagne has more than mere skills; he has the brains and the attitudes that will take him far in the NHL. There are rumors he could be seen in Philadelphia as early as this spring, after the CHL playoffs end. Remember his name. In French, the verb "gagner" means "to win." Simon Gagne is a winner and he'll bring a lot to either the Phantoms or Flyers when he arrives in Philly.
---
SIMON GAGNE REPORT
Planet Flyers Report (By James Klug) -- January 14, 1999
When Bob Clarke saw Simon Gagne still available when it came around to the Philadelphia Flyers first pick, he couldn't help but pick him. At 6'0", 170 lbs,  Gagne is not a typical Flyer draftee. But given some of the bad picks of the past, that may turn out to be a good thing.  Gagne is currently one of the top scorers in the Quebec League and has received the largest media attention of his life because of his recent World Junior success.
In 35 games this year with the Quebec Remparts, Gagne has 26 goals and 32 assists for 58 points. Before leaving for the team Canada training camp he was outscoring teammate Eric Chouinard a one dimensional player who was drafted by Montreal before Gagne (16th overall). Chouinard now has 2 more points than Gagne.
Gagne is no one dimensional small center. There have been many prospects that could light it up at the junior level but not become successful at the NHL. Flyer fans need not look any farther then recent call-up Mark Greig, who when drafted was a scoring sensation at the junior level and now at the age of 29, has only played in 98 NHL games. A lot of Quebec league scoring sensations can fall very hard when they get to the NHL. We know all to well about Alexander Daigle, and does any one remember when Colin Campbell wouldn't trade Christian Dube for Shanahan because he said Dube would retire with better numbers?
But Gagne brings to the table a much more rounded resume. Yes he can score, but as I mentioned in my World Junior reports, his defensive side is terrific. He is also an above average face-off man and has terrific offensive and defensive instincts (not skill, this is the stuff that can't be coached). Canadian coach Tom Renny said after game two in the tournament that Gagne is "the kind of player that coaches like better than the fans." He does all the little things well and that will certainly help him when he tries to make the jump to the next level.
Gagne will never be known as a tough guy, and his English skills are probably surpassed by Dimitri Tertyshny (which doesn't make him a bad player, but it makes for difficult communicating) . But those two elements aside, this guy is the complete package to be a future second line center.
Here are some career highlights aside from those I posted in his world junior reviews:
Scoring streak of 21 games earlier this season
Played in 1997-98 QMJHL All-Star Game and 1998 Top Prospects Game
Named Beauport's Rookie-of-the-Year in 1996-97.
Member of national team that won the gold medal at the 1997 Tri-Nation Tournament. Attended Junior team summer camp in 1998.
---
FOUR GOALS BY GAGNE DON'T DAZZLE HABS SCOUT
The Montreal Gazette (By Herb Zurkowsky) -- January 04, 1999
Pierre Dorion, the Canadiens' chief scout, contemplated driving to North Dakota on Saturday night. But, given the treacherous road conditions, he changed his mind.
Instead, he watched Canada wax Kazakhstan 12-2 in a World Junior Championship quarter-final game. Dorion, like everyone else at the Winnipeg Arena, saw Simon Gagne, a player the Canadiens could have drafted last June, score four goals, equaling a Canadian tournament record established in 1983 by Mario Lemieux.
Eric Chouinard, the player the Canadiens selected with their first choice (16th over-all) last June, tried out for Team Canada, only to be a late cut. Chouinard is a talented offensive player, but isn't renowned for his defensive prowess, a trait which concerned officials assembling this team.
As for Gagne, Chouinard's teammate on the Quebec Remparts and a more versatile two-way player, he went 22nd over-all, to Philadelphia, and is among Canada's hottest players, with five goals and an assist, heading into this afternoon's semi-final game against Sweden.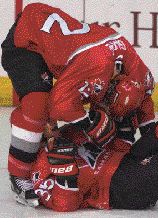 Dorion said he'd put little, if any, stock in a player's performance against a Kazakhstan team that was clearly overmatched. If Gagne scored four against the Kazakhs, Dorion added, Chouinard might have bagged eight. He also noted that Flyers general manager Bob Clarke just happened to be in attendance.
Anyway, the point is this: Dorion sticks by his decision to select Chouinard.
"Simon Gagne is going to be a good player, but we questioned his size," Dorion said of the 6-foot, 180-pounder -Êthree inches shorter and 18 pounds lighter than Chouinard. "If we wouldn't have taken Chouinard, we would have taken Gagne. We felt Chouinard had better offensive qualities."
Chouinard is among the Quebec League's leading scorers this season and has improved his skating, Dorion added. "I've had no second thoughts, especially having seen Chouinard play this year."
Gagne, a Leap Year baby who will turn 19 this February, traveled to Buffalo for last June's draft and heard rumours about possibly going to the Canadiens. He knew there would be pressure in Montreal and he might not immediately play in the NHL, but like any francophone kid from Sainte-Foy, sat in the stands at Marine Midland Arena and hoped GM Rejean Houle would call out his name. And, when Houle announced the choice was from the Quebec Remparts, Gagne's heart picked up its beat.
"I my head, I was sure it was me," he said. "But they called Eric Chouinard's name. It's a big shock when you're sitting in the stands. It would have been more difficult making the big team, but sure I'd like to be drafted by Montreal."
Don't feel sorry for Gagne. He'll arrive in Philadelphia an unknown quantity, will toil in anonymity and will likely thrive because he's a solid player.Þ A good skater, penalty-killer and smart two-way player, Gagne in many ways appears to be the prototypical Flyer.
Team Canada assistant coach Claude Julien isn't the least bit surprised by anything he has seen over the last week from Gagne. As the head-coach of the Hull Olympiques, Julien has watched Gagne for close to three seasons and coached the centre in the summer of 1997 on Canada's under-18 squad.
"There are times when the Quebec League is accused of producing great offensive players, but guys who can't play defence. That's not the case with Simon," Julien said.
In debating the strengths and weaknesses of Gagne and Chouinard, Julien pointed out that Gagne is older by five months and has played one more year of junior. At this level, Julien explained, that experience is a huge difference.
"I honestly think Eric's one year away from making this team," Julien said. "I don't think the Montreal Canadiens made a mistake by taking him. He's a highly-skilled player."
---
HOT NEW LINE HOPING THE MAGIC CONTINUES
The Toronto Sun (By Terry Koshan) -- January 04, 1999
WINNIPEG -- By tinkering with the lines before Saturday's 12-2 win against Kazakhstan, Canadian junior coach Tom Renney struck gold.
Renney moved winger Brad Leeb on to a line with centre Simon Gagne and winger Brenden Morrow, who had been together since the start of the world junior tournament, and the result was an eye-popping 18 points for the trio against the Kazakhs.
"I think our styles really complemented each other," Leeb, who plays for the Red Deer Rebels of the WHL, said yesterday. "The chemistry was perfect."
Gagne led with four goals and one assist, Morrow had one goal and six assists and Leeb had two goals and four assists. Morrow said the explosion wasn't expected, but it was something he certainly needed.
"I was a little worried after the first four games because I hadn't put any points on the board," said Morrow, a member of the Portland Winter Hawks of the WHL, who was the 26th pick overall by the Dallas Stars in 1997. "So when Simon scored in the first period (with an assist from Morrow), it was a nice relief."
The surprise contributor was Leeb. Now in his fifth season with Red Deer, the 5-foot-11, 179-pounder has 129 points in 203 career games with the Rebels and made the national team mainly as a role player.
Of the three linemates -- Gagne was picked 22nd overall by the Philadelphia Flyers last June -- Leeb is the only free agent.
"My brother (Greg, 21, who played for Spokane in the WHL) signed a pro contract with the Dallas Stars before the season started and I use that as inspiration," said Leeb, whose brother plays for Kalamazoo, the Stars' AHL affiliate. "I was passed over in the draft twice, so maybe this will lead to something."
Gagne is a slick playmaker who scores pretty goals, while Morrow is a power forward who has received thunderous applause throughout the tournament for his bodychecks. Leeb is a grinder who has shown his hands are soft enough when needed.
Renney said the idea of putting Leeb and Morrow with Gagne was to allow Gagne, of the Quebec Remparts of the QMJHL, to put his offensive talents to greater use..
"We thought both wingers would free up a lot more free ice for Simon," Renney said.
Gagne is looking for a touch of the same magic this afternoon, when Canada plays Sweden.
"(Saturday) was unbelievable," Gagne said. "Every play we made we had a chance to score, and I hope it can happen again."