ADAM BURT'S OVERTIME WINNER SINKS CANUCKS 3-2
The Canadian Press -- December 30, 1999
VANCOUVER (CP) - Adam Burt scored his first goal of the NHL season at 2:34 of overtime Wednesday night as the Philadelphia Flyers remained undefeated on Vancouver ice for this decade with a 3-2 victory over the Canucks.
Philadelphia is 7-0-3 in Vancouver during the 1990s. Rookie Simon Gagne, who assisted on the winner, scored into an open net midway through the third period to lift the Flyers into a 2-2 tie. Gagne tapped the puck past Garth Snow after centre Mark Recchi fed him a backhand pass that went through the crease and behind the kneeling Vancouver netminder.
Todd Bertuzzi and Donald Brashear scored for Vancouver, while Jody Hull also counted for the Flyers, who remained a point ahead of New Jersey atop the Atlantic Division.
The Canucks skidded to their eighth loss in 10 games (1-8-1).
Brashear staked the Canucks to a 1-0 lead by knocking his rolling rebound past goaltender John Vanbiesbrouck. Matt Cooke gave Brashear a goal-mouth pass after a steal in the Philadelphia zone.
The Canuck enforcer's first goal in 15 games came as the Flyers were dominating. Vancouver needed a close-in save on Rod Brind'Amour by a prone Snow and some luck as Mikael Renberg chopped the puck over the crossbar.
Hull tied the game midway through the second period by snapping home Gagne's centring pass. The score came after Canuck Alex Mogilny was foiled by a goalie pokecheck on a short-handed breakaway for the second consecutive game.
The Canucks regained the lead late in the period with a rare power-play goal as Bertuzzi swooped down the right wing and tucked the puck under Vanbiesbrouck 18 seconds after Eric Lindros went off for roughing.
Notes: Flyers coach Roger Nielson, a former Canucks coach now battling bone marrow cancer, was the subject of a scoreboard message that said "Roger we are with you in your fight" . . . the crowd of 18,422 was the first sellout of the year . . . the Canucks play five of their next six games on the road.
---
CANADA'S CHOUINARD INSPIRED BY GAGNÉ
The Canadian Press (By Donna Spencer) -- December 27, 1999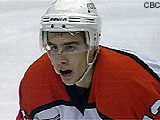 SKELLEFTEA, Sweden (CP)--Forward Eric Chouinard got advice about playing for the Canadian junior hockey team from a very reliable source.
Simon Gagne, Chouinard's former Quebec Remparts teammate, was one of the top forwards for the Canadian junior team that won the silver medal in Winnipeg last January.
Chouinard was cut from that team as an 18-year-old. After watching Gagne play in last year's tournament, then make the Philadelphia Flyers roster this season as an 19-year-old, Chouinard wants to follow in Gagne's footsteps.
"That was probably the thing that motivated me," said the six-foot-three, 205-pound native of Cap-Rouge, Que. "Having one of my best friends have a great tournament and seeing all the good things that happened for him because of that tournament."
"His success at this tournament probably helped him to get to the NHL quicker."
Gagne almost re-joined Chouinard on Team Canada, but when Flyers' coach Roger Nielson was diagnosed with cancer, Philadelphia general manager Bob Clarke didn't want to disrupt his club further by releasing Gagne.
Chouinard, a first-round draft pick of the Montreal Canadiens, and Gagne often talk on the phone. Their conversation before the selection camp in December was about how to keep focused during the short, intense tournament.
"He gave me advice about how the tournament is very short," said Chouinard. "And he said after winning you have to stop thinking about it and starting thinking about the next game."
Chouinard said he started preparing for today's game against the Czech Republic (1:30 p.m. EST, TSN) shortly after Canada opened its tournament with a 3-2 win over Finland on Christmas Day.
Chouinard scored Canada's second goal against Finland and, with 36 goals and 26 assists in 32 games with the Remparts this season, he will be relied upon to produce throughout the tournament.
Chouinard had hoped to make the NHL as a 19-year-old, but didn't play well enough to stick with the Canadiens.
"It was tough this year at the start of camp," said Chouinard. "People were expecting me to stay there this year, but I wasn't ready."
"I needed to come back to junior and have fun and be a leader for Quebec."
Chouinard's coach in Quebec is none other than his father, former NHL veteran Guy Chouinard, who is also the winningest coach in Quebec Major Junior Hockey League history.
But the junior Chouinard says he received more advice about playing in the world junior tournament from Gagne than his father.
"He didn't talk to me about the hockey," said Chouinard. "He just encouraged me to go hard and go out there and try to do my best."
After a two-day break, Canada now plays two games in two days with a match against Slovakia on Wednesday.
The Czechs are 1-0-1 with a win over Slovakia and 2-2 tie with the U.S. The Czech Republic is a much better team than the one that finished seventh in Winnipeg and is led by centre Milan Kraft, 19, who plays for the WHL's Prince Albert Raiders.
"They're big, they're quick, th"They're big, they're quick, they're strong," said Canadian coach Claude Julien. "You really have to respect them."
Canada also can't afford to get into penalty trouble like it did against Finland if the game gets chippy.
"We've got to be careful we don't retaliate," Julien said. "It's a simple as that."
Julien wouldn't say Monday who his starting goaltender would be. But Maxime Ouellet will likely get the nod over Brian Finley after his strong performance against Finland.
Defenceman Steve McCarthy sat out two practices after bashing his front teeth on the crossbar of the Canadian net Saturday and is questionable for Tuesday's game.
He spent three hours in the dentist's chair Sunday for a root canal and other various surgeries, which he said was worse than hitting his head.
"It's still a little sensitive to the cold," said McCarthy. "I will take the pre-game skate and see how it feels."
If McCarthy plays, he will wear a full visor. And he would also face his Kootenay Ice teammate, Jaroslav Svoboda.
---
NEILSON SITUATION KEEPS GAGNÉ AWAY FROM WORLD JUNIOS
SLAM! SPORTS -- December 10, 1999
TORONTO (CP) -- Flyers general manager Bob Clarke has planned to send rookie centre Simon Gagne to Canada's world junior hockey team. But he changed his mind after learning head coach Roger Neilson has cancer.
"When I left the house this morning, I was going to tell Gagne that he was going to the world juniors," Clarke said Friday. "But I got to the rink (in Voorhees, N.J.) and found out about Roger's cancer.
"I decided to keep the team together for Roger."
Clarke had originally decided to have Gagne play tonight against the Toronto Maple Leafs at Air Canada Centre, and then send him to Canada's junior selection camp that starts Sunday in Kitchener, Ont. Today is the deadline for NHL teams to release junior-aged players for the selection camp.
But with the team rallying around Neilson, who was diagnosed with multiple myeloma, a kind of bone cancer, Clarke didn't want Gagne to be excluded.
Otherwise, Clarke said, he would have sent Gagne, despite the young centre's protests. Clarke thinks all NHL teams should do it for Canadian Hockey.
"They develop these players us," he said. "We owe it to them to send back the juniors."
Gagne joined Calgary Flames centre Rico Fata and defenceman Robyn Regehr, New York Islanders defenceman Mathieu Biron, Tampa Bay Lightning centre Vincent Lecavalier, New York Rangers centre Manny Malhotra and Ottawa Senators centre Mike Fisher as players not made available to Canada.
Only the Montreal Canadiens -- who made centre Mike Ribeiro available -- bucked the trend.
---
GAGNÉ MAY BE SCORING WAY OUT OF TICKET TO TOURNEY
Philadelphia Daily News (By Les Bowen) -- December 6, 1999
Eight days ago, when Flyers general manager Bob Clarke told the Daily News he wanted to send Simon Gagne to the World Junior Championships in Sweden at Christmas, the rookie winger had five goals and three assists in 25 games.
He had one point - a goal Nov. 22 at Tampa Bay - in his previous 12 games.
Well, last night the Flyers played for the third time since Clarke started talking about sending Gagne away for three weeks or so to play for Canada. In those three games, Gagne has a goal and four assists, including two assists in each of the Flyers' weekend games, Saturday's 3-2 win in Montreal and last night's home triumph over St. Louis by the same score.
Coincidence? Maybe not.
"I don't think he wants to go to the World Juniors," linemate Mark Recchi said last night, with a chuckle. "He's really picked up the level of his game. . .He wants to stay here."
Team captain Eric Lindros, who last week began waving the flag for not disrupting the rookie's season, felt Gagne's strong play lately should settle the issue.
"I don't think he's going," Lindros said. "I know everyone in this room appreciates his contributions. . .He certainly would help the Canadian team, but right now he's doing a real good job of helping us.&quot
Gagne, raised in the Quebec City suburb of Ste. Foy, assisted on Recchi's game-winner in Montreal, with his family and the entire Quebec Remparts junior team watching. That team would have been a much stronger Memorial Cup contender if Clarke hadn't decided to keep his 1998 first-round draft pick after a strong training camp.
"I want to give my best and prove I deserve to stay here," Gagne, 19, said last night. "It's not my decision, it's Mr. Clarke's. But I want to stay with the team. . .For me, that's a big motivation."
The Flyers' charter was delayed briefly in Montreal, so Gagne got a few extra minutes with his family.
"I'm going to try to see them [again] at Christmas time," said Gagne.
Of course, that will be possible only if he isn't in Sweden.
Clarke said last week that he wanted to let Gagne play for Canada, assuming broken-footed forward Rod Brind'Amour is healed soon. Brind'Amour, who has yet to play this season, has not begun skating, and probably won't be anywhere close to playing by Friday, when Clarke has said he hopes to make his decision on Gagne.
---
SHOULD HE STAY OR GO? GAGNÉ AND FLYERS WEIGH TOURNAMENT
The Philadelphia Inquirer (By Tim Panaccio) -- December 1, 1999
Canada is expected to announce today which hockey players have been invited to play for its national team at this month's World Junior Tournament in Skelleftea and Umea, Sweden.
But Simon Gagne, a rookie center for the Flyers, said yesterday that he didn't want an invitation.
NHL clubs have been asked by the Canadians to send their 19-year-old juniors to the tournament that Gagne dominated last year in Winnipeg as an 18-year-old. Players must commit by Dec. 12.
"I want to stay here," Gagne said.
Trouble is, "I don't know if he has a say in it," said Paul Holmgren, the Flyers' assistant general manager.
Flyers coach Roger Neilson met with Gagne yesterday to find out how the player felt and to explain that the decision was up to general manager Bob Clarke.
"Clarkie is getting a lot of calls from hockey people in Canada," said a person close to Barry Trapp, the committee's scouting director. "There's some pressure there to send Gagne."
Today's announcement will include only those junior players who have agreed to join Team Canada and those junior-eligible NHL players whose clubs have agreed in advance. Holmgren said the Flyers could not commit Gagne until closer to the Dec. 12 deadline because of Rod Brind'Amour's unavailability.
"We have 10 or 11 days before we have to decide, and I don't think we know which way we're going to go," Holmgren said.
The Flyers don't have to send Gagne if there is compelling reason to keep him. Since he skates a regular shift as the club's third-line center and works the first-unit power play - and since Brind'Amour's fractured left foot figures to keep him out until late December - it's unlikely that the Flyers will release Gagne for 31/2 weeks.
The tournament is to begin on Christmas Day, with Canada playing Finland, and end Jan. 4. The camp roster is expected to include 30 to 36 players. Canadian team officials said the selection committee would leave four or five spots open for players whose clubs haven't given early releases. The final roster will have 22 players.
The New York Rangers have announced that they would not send center Manny Malhotra because he was playing a regular shift every game on a team struggling to get wins. And the Montreal Canadiens have announced that they won't send center Mike Ribeiro because they are decimated with injuries.
Neilson, also fighting for wins, doesn't want Gagne to go and says the Flyers have reason to keep him.
"He's helped us," the coach said. "He's out there on the power play, he has that speed, and he is very reliable defensively for a 19-year-old kid. I'm not anxious to see him go. . . . I could understand if he was a guy who is not playing very much, but right now, we've been playing Simon a lot."
Gagne emerged last year as the elite junior in the world by winning the tournament's MVP award. His play in Winnipeg convinced the Flyers that he was ready for the NHL, and he believes he can prosper in it.
"I like playing here, and when I play, I learn a lot," Gagne said. "If I go, I will miss maybe 10 games."
He also said that winger Keith Jones would likely reenter the Flyers' lineup Thursday night at Buffalo and that Brind'Amour might be back before he could return from Sweden. That means that whoever leaves now might not get back in.
"Yeah, sure, I know that," Gagne said. "We have two extra players right now, with Jones and Brind'Amour. That is a tough lineup to break."
He also said he didn't know what could be gained by going - since he has been to the tournament and performed well there.
"If you're playing in the NHL, you can't get any better than that," an agreeing Holmgren said. "If he went, it would be a feather in his cap, but I think playing in the NHL, well, it's hard to get any better [competition] than that."
Brind'Amour is not expected to begin skating until mid-December, which means he wouldn't be ready to play should Gagne leave. That means the Flyers would be hurting only themselves by allowing Gagne to go.
"I'm quite certain Brind'Amour won't be ready as early as [Canadian national team officials] want to know [about Gagne]," Neilson said.
Said Gagne: "If [Clarke] asks me, I want to stay."
---
CAPTAIN, COACHING BACK GAGNÉ
Philadelphia Daily News (by Les Bowen) -- December 1, 1999
Bob Clarke and Eric Lindros might have found something else to disagree about.
Life around the Flyers' soap opera threatened to get boring, after Flyers general manager Clarke publicly declared he wasn't trading his captain. But in the same conversation Sunday in which Clarke disclosed his reassurances to Lindros, Clarke talked to reporters about sending rookie centerman Simon Gagne to play for Canada at the World Junior Championships in Sweden later this month, if Rod Brind'Amour (broken foot) is ready to play by then.
This was not entirely welcome news to Gagne, who is trying to establish himself as an NHL player.
"I'd like to stay here all season," said Gagne, who was quick to add that he will do whatever "Mr. Clarke" wants.
Lindros, as captain, was equally quick to speak up on the rookie's behalf yesterday.
"Simon's a big part of the team right now and he's playing well. We shouldn't be talking about this now. He wants to stay here," Lindro said. "If Roddy's OK, we'll cross that bridge when it comes. [Gagne] has given his all for this team. I don't think we should be talking about it now. He's played very well. I'm a bit selfish that way; I want him here."
Flyers coach Roger Neilson sounded about as wary as Lindros.
"It's an option that's there," Neilson said. "NHL teams are committed to trying to send their 19-year-olds if they can."
Neilson noted, however, that Brind'Amour is unlikely to be ready to play by the Dec. 12 opening date of Team Canada's training camp. In recent years, Canada has not allowed players to skip any part of the selection process, even significant players such as Gagne who would have little to prove during cutdowns.
"I'm quite certain that Brind'Amour isn't going to be ready by the time they would want [Gagne]," Neilson said, perhaps hinting that the dispute might be moot. "But the ultimate decision would be Clarkie's."
Clarke said Sunday that he would only part with Gagne for 31/2 weeks if he knew that Brind'Amour was 100 percent. Yesterday, Clarke said everyone involved would have to sit down Dec. 10 and see what the outlook might be. It is conceivable that if Brind'Amour were close to returning, but not quite there, Clarke might feel confident enough to dispatch Gagne. Next Tuesday, Brind'Amour is scheduled for X-rays. Doctors hope the bone that had not quite healed the last time they looked is finally mended. If the bone is OK, Brind'Amour will be cleared for light skating, three days before Clarke wants to make his decision on Gagne.
The World Junior tournament is a huge deal in Canada, where it gets media coverage roughly equivalent to that of the NCAA Final Four in the United States. Gagne played last year on Canada's runner-up team. His presence, possibly as captain, could have a huge impact on Canada's chances this year.
"I don't want to go there, miss games, then have to restart again here," said Gagne, who would miss at least nine NHL games, with the tournament ending Jan. 4. "If Mr. Clarke says go, I'll go. I would be very happy to represent Canada. . .That's a very big experience; you remember that all your life. But [whether to go] is a very big question."
Gagne has five goals and three assists in 25 Flyers games. He has been solid, if unspectacular.
"A kid like Simon, you want to do what's best for him," Neilson said. "If it were better for him to go and get that experience at the world tournament, we would probably go along with that. On the other hand, if we need him here, and we're going to use him, you'd want him to stay here. Right now, he's done well for us. He's an important part of the team . . .He adds that speed we need, he draws penalties and he's very reliable defensively for a young kid. I'm not anxious to see him go unless it would really be good for him."